Project location:Cote D'Ivorie
Product:LSAW pipe welded with flange & plate
Standard and material:EN10219 S355JR, EN10025 S235JR, EN1090-2
Specifications:DN400 – DN800, length in1-12m
Usage:Steel prop for shoring
Inquiry time:2022.6.22
Order time:2022.8.30
Shipping time:2022.12
Estimated arrival time:2023.2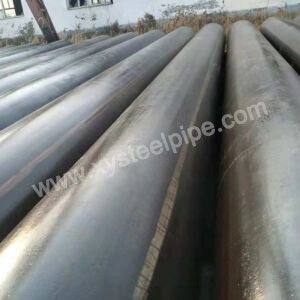 At the end of June 2022, Tianjin Xinyue received an inquiry from a French customer for steel pipe processing parts. EN10219 S355JR steel pipe OD 406-813mm. The pipe ends are welded with rectangular plates or circular plates at different angles. At that time, the customer had 2 options in consideration:
Option1: The length of pipes shall be completely consistent with the project requirements, and the finished products shall be provided at 1-31.4m;
Option2: Semi finished products are supplied at 12 meters, and the customer will conduct further pipe cutting and welding processing at the project site;
The advantages and disadvantages of these two options are obvious:
For option1, there's no need to weld flange, plates & connection fittings on project site, which saves time, labor and cost for customer, however, transportation and related operations are limited;
For option 2, additional matching flange round plates are required for the project site to connect the pipes to the required length of the project; More materials and welding costs for connecting accessories, but it's more practicable for transportation.
Xinyue offered the corresponding evaluation and quotation for both options once received this inquiry, and also provided our flange round plate design and drawings for customer evaluation. After a month of assessment & adjustment, the procurement plan of option 2 was finally confirmed at the beginning of August.
During the whole negotiation process, both parties were reasonable, respected each other, and finally reached a consensus。
At present, all goods are in production and will ex-mill at the end of Dec.
Written by Nicole